As part of the Unified Community Platform project, your wiki will be migrated to the new platform in the next few weeks. Read more here.
Cashew Tree
Cashew Tree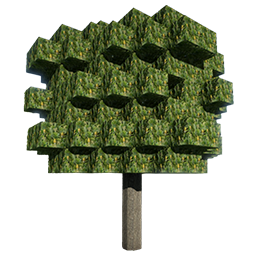 Wood: Cashew Wood
Leaves: Cashew Leaf
Fruit: Cashew
Can be Planted:

Drops Self:

A cashew tree is a tree you can find in the world of Cube Life: Island Survival. Its leaves are filled with Cashews.
Cashew trees may be grown by planing a Cashew Seed, which is crafted using a cashew and a filled bucket of any type. These seeds may be planted on any block, and once planted, the cashew tree will grow instantaneously.
Drops
Cashew trees have been in the game since release. Version 1.8 allowed players to grow them themselves using cashew seeds.